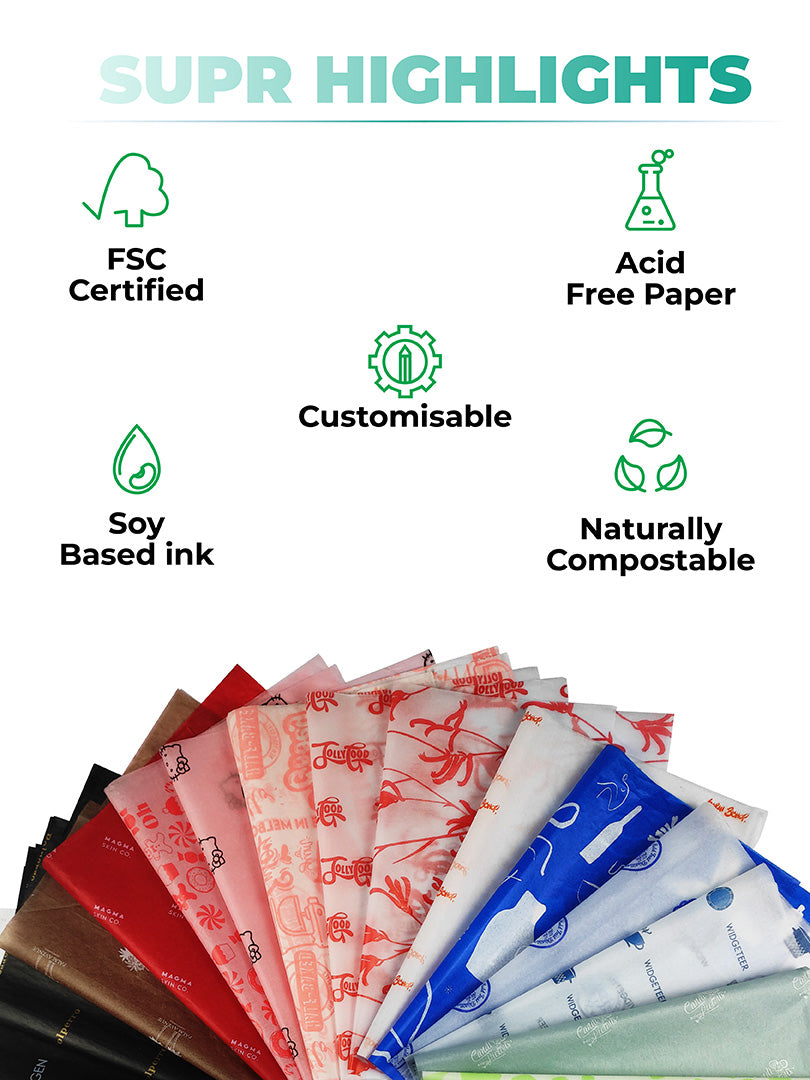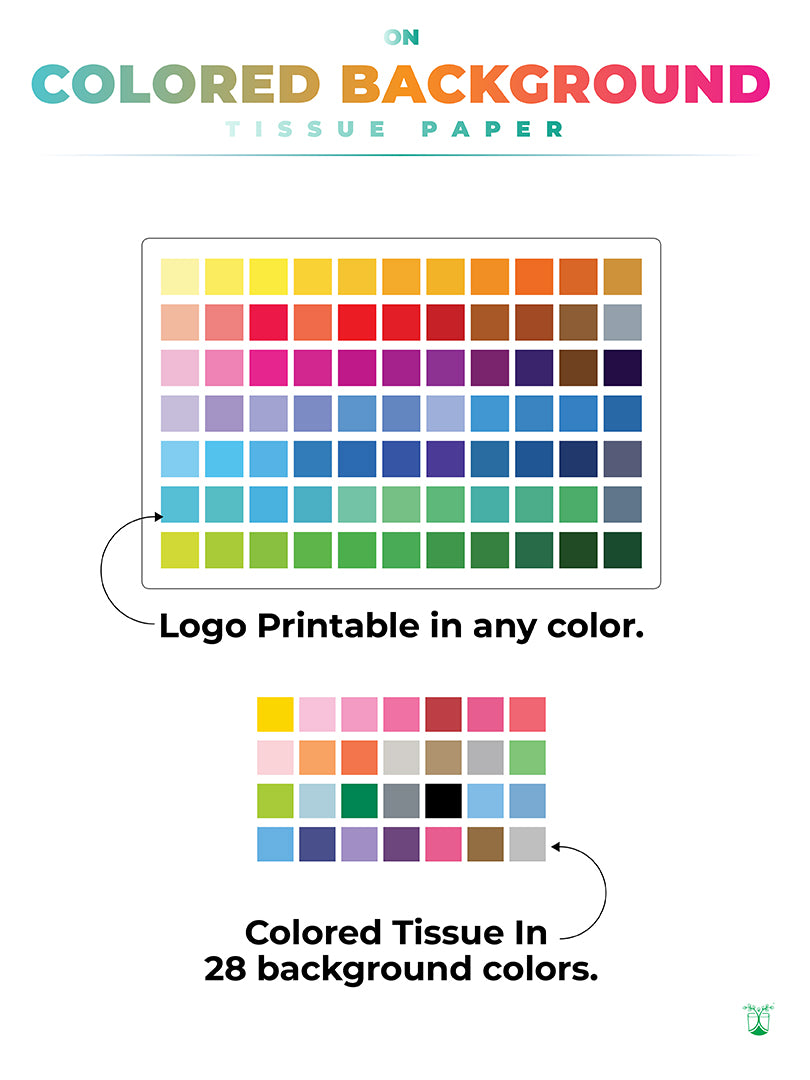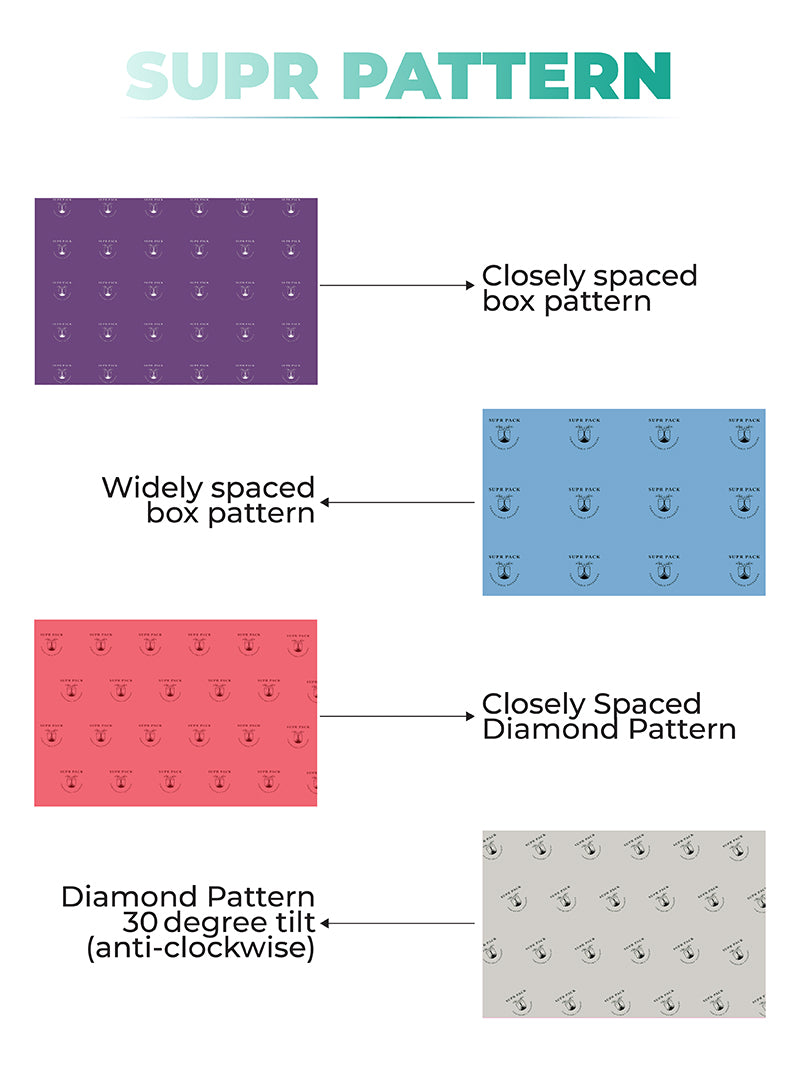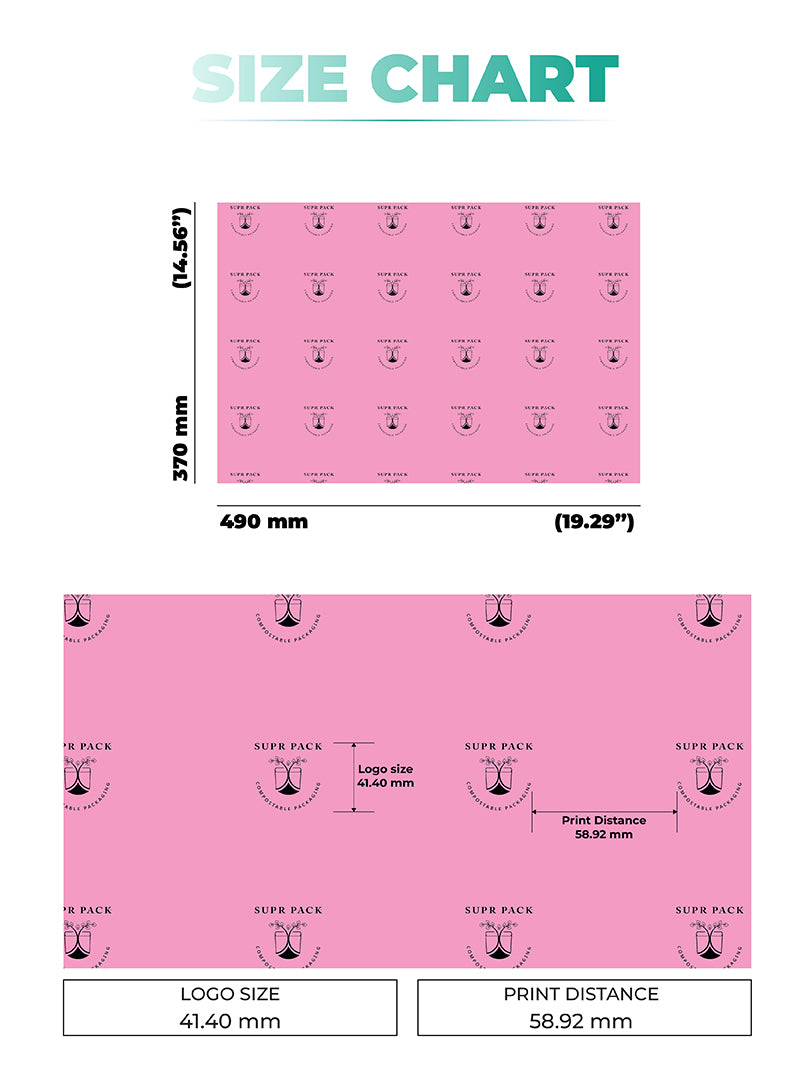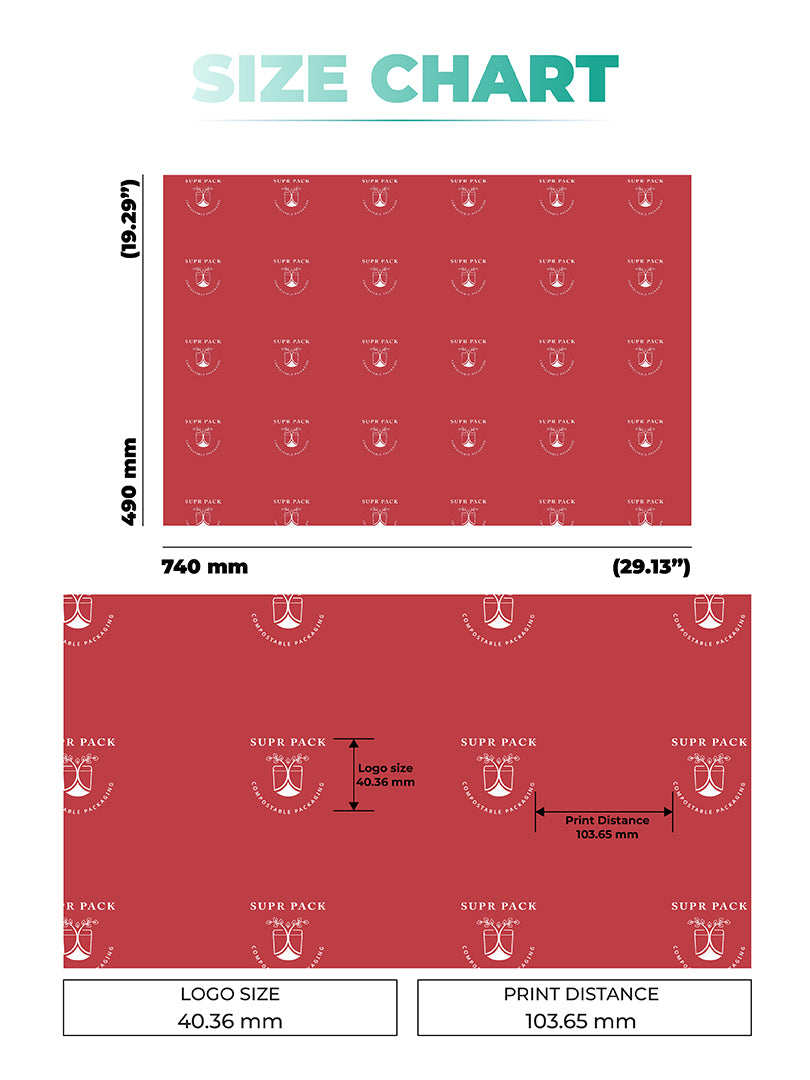 Colored Custom Tissue Paper for Eco-Friendly Packaging - MOQ 100
Regular price
Sale price
$155.00
/
Supr Pack is on a mission to enable the emerging need for Eco-Friendly and Compostable Custom Tissues in Small Batches- MOQ 100 Sheets.
Click here if you want to order Logo based White custom tissue.
Click here if you want to order Seamless design custom tissue.
Key Features:
FSC Certified & Acid-Free Tissue Paper
17GSM paper thickness, 2 different sizes & translucent wrapping paper
Eco-friendly & Naturally Compostable
Uses Soy-based Ink.
In colored Tissue Paper, up to 28 standard background colors are available to choose from.
We are currently shipping in Australia & United States of America.
Click Here to read the Refund, Return & Exchange Policy
This product is a logo-repeating design product. 
While customizing, Logos may appear pixelated. However, that won't be the case in the final product.
Supr Pack provides up to 22 colored tissue paper options to choose from and they can't be changed. But the Logo color can be printed in any color. 
If you can't find your background color tissue, then we have a different product in which you can choose your own background color. click here (seamless) to check the product. 
We offer a range of standard colors for your logos. If you can't find your desired color, simply provide the Pantone code in the order notes section, and we'll print your color.
For size S, the standard logo size is 41.40mm and the distance between two logos is 58.92mm.
For size M, the standard logo size is 60mm and the distance between two logos is 103.65mm.
If you wish to adjust the logo size, please note that it won't be customizable during online customization. However, you can place your order and request editing when you receive the confirmation email from our design team.
We can print logos as small as 25mm, and there are no limits to larger sizes.
While customizing, to see the preview, kindly upload a JPEG, or PNG file only.
After ordering, kindly mail us an HD file (PDF, AI or PSD) along with your order number. 
If the preview is not showing due to any technical discrepancy, then place an order & share your design file at hi@suprpack.com along with order number.
For printing, kindly leave the Pantone color code in the "Order Notes" Section.
In Custom Tissue Paper, up to 1cm smaller/bigger size is acceptable. Also, the logo may be cut from the edges. 
After the order, the Supr Pack's design team will reach out to you with the mockup for approval. Without approval, production will not start.
Colors may appear slightly different due to differences and restrictions in printing colors on a compostable material.
Printing tolerance: 2-3% alignment offset is acceptable because of Small Batch production. Supr Pack sends extra stock to compensate for the adjustment.
Sustainability Specs
Home Compostable & Recyclable
How to Compost:
Remove all the stickers and labels from the Tissue wrapping Paper & drop them in a Home Compost Bin (since the paper is naturally compostable, you can compost in your Home Compost bin) or Recycle Bin.
Material:
Custom Tissue Paper is made of FSC Certified, Acid-Free & 100% Virgin Pulp Paper.
Printing color:
Branded Tissue Paper use Plant/Soy Based printing inks for Customisations.
Free Standard Delivery for Custom Tissue Paper will be done within 15 working days in total (production & delivery).
15 working days will be counted from the date of mock-up approval over email.
Read the Complete Shipping Policy here
What is the Custom Tissue Printed process?
Supr Pack's Tissues are digitally printed with soy-based ink in Pantone colors.
How many colors can be printed?
Supr Pack's Tissue can be customized with one or two colors. You can customise it with your logo designs in 4 different pattern arrangements or choose a custom full-page design.
Can you Print multiple colors?
Yes, we can print more than 2 colors for you. The MOQ will be 1000 sheets. Kindly get in touch with us at hi@suprpack.com for a quotation.
Can you print my custom sizes?
Yes, we can print on a custom size for you. The MOQ will be 1000 sheets. Kindly get in touch with us at hi@suprpack.com for a quotation.
Can you do Tissue Paper with different thicknesses?
Yes, we can print your designs on Tissue Paper with different thicknesses. We have 28, 40, 60 & 70 GSM Tissue Paper available.
Are supr Pack tissue Food Safe?
Supr Pack's Custom Tissue uses food-safe Soy-based ink. However, we do not recommend them to pack your treats. Supr Pack is soon to launch FDA-approved food-safe custom Tissues. Stay tuned!
What are the Sizes available in Custom tissue Paper?
Supr Pack's Custom Tissues come in 2 different sizes to fit all your packaging needs.
S (380 x 500mm)
M (500 x 750mm)
If you are looking for another size, kindly get in touch with us at hi@suprpack.com and we may be able to provide your custom size.
How many days till it goes back to the environment?
Supr Pack's Tissue being Eco-Freindly and compostable takes anywhere between 90 to 120 days to get back to earth. After use, you can put it in your Home Compost Bin.